Spetses, the lady of the Saronic Gulf. It is the island of Matrozou and Boumboulina, worriors of the Greek Revolution of 1821.
Here history meets nature and tradition. The amazing combination of pine trees and sea creates spectacular views of natural beauty. Lacy beaches with golden sand, gleaming pebbles and crystal waters, give you moments of peace and serenity. It maintains its natural features which remain unchanged over time.
The old Mansions of the last century, the peculiar architecture, the picturesque Byzantine churches, the historic museums, the streets with pebbles, the famous docks and colorful carters, are traditional elements manage to fascinate visitors for many decades and beyond.
Spetses have about five thousand inhabitants, which multiply every weekend in the summer, due to easy access from the port of Pireus.
It is so the attractions of the island, thatprefer Greek and foreign visitors. Tourism is the main source of revenue for the island. In Ntapia, the current port, were placed the cannons that defended the city. Today around the harbor is the Mall of Spetses.
Starting from Ntapia and going to the left, we pass the "Poseidonio" built in the beginning of the last century and retains all of its old glory.
Below, following the coastal road we see the facade of the old factory, and the beach of Kounoupitsa. In Kounoupitsa are mansions of the last century and the City Hall of Spetses.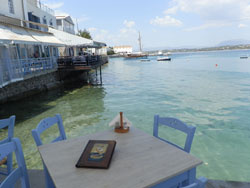 Continuing we reach "Sxoles" to admire the facilities of Anargiriou - Corgialenios faculty which operated from 1927 - 1983 and was the largest in the Balkans.
After the schools are the beaches of Ligoneri Vrellos. Southern we can see the highest peak of Spetses from where we have a panoramic view of the whole island.
We pass through the small church of Agios Mamas and the monastery of St. Nicholas and arrive at the Old Harbour and then at Cape Lighthouse. Therein lies the church of Panagia Armata.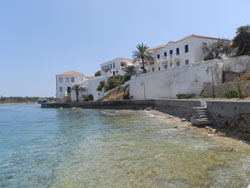 At the Old Port are the famous shipyards which manufacture wooden boats with the old traditional way, until today.
To the south is the beach of Agia Marina with archaeological interest. We go back to Ntapia. Over the harbor and within five hundred about measures it is Kastelli. It is the city of pre-revolutionary times. The churches are the only ruins that have been perserved
It is worth visiting the mansion of S. Anargyrou, neoclassical, stone, with two Egyptian sphinxes dominating the right and left side of the entrance.

Spetses is an island with a strong cosmopolitan life.
All around the island is beautiful, clean, tidy and the people hospitable and polite.